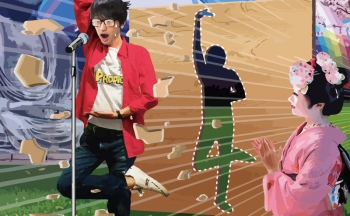 We will exhibit at the e-Sports corner of "Tokyo Game Show 2018" at Makuhari Messe (Chiba City, Chiba Prefecture).
(Exhibition Hall 10 WE19 e-Sports Corner) Exhibitor name:『PRODIGY powered by JOYSOUND』
This year, we will exhibit the VR-BUCHINUKI- KARAOKE "BUCHI-KARA" as the 2nd lineup of spo-kara series following the 1st lineup "BOKU-KARA" which has been very popular. You get funny pose as drawn on the approaching wood board while singing in a loud voice, and get win by earning count of boards you break ! The VR world is builted on weired Japanese surrealism which fusioning with karaoke song, and there is no doubt that competitions of scoring will be exciting as being e-Sports!.
There are Multi Function Pens for all challengers and folding paper fans for high scorers as the novelty.
Good luck with singing and getting funny pose , get a premium! (There are a limited number)
Please come and visit our booth.
Click here for press release ⇒https://prodigy-inc.co.jp/dl/TGS2018press.pdf